Anchor
Hot Spring & Fine-Cuisine Carnival, warm and stylish hot spring travel!
Autumn breeze marks the season for hot springs. The Tourism Bureau, M.O.T.C., together with Hot Spring associations from Taiwan's 19 hot spring areas, held the "2021-2022 Taiwan Hot Spring & Fine-Cuisine Carnival" opening ceremony at the Grand Cosmos Resort Ruisui; many important guests attended the ceremony.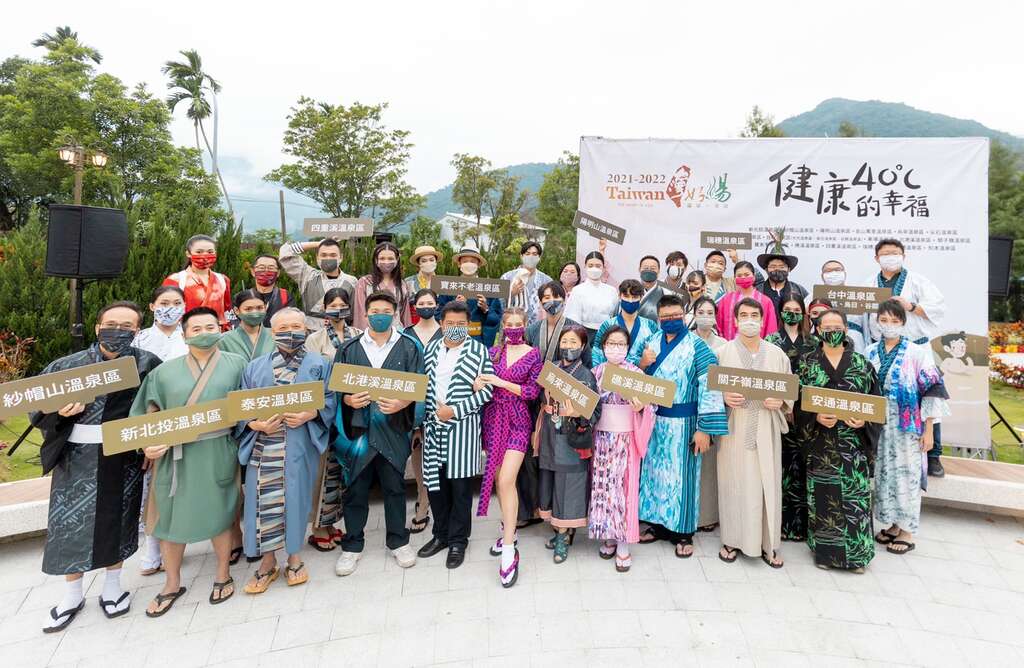 One of this year's highlights is the Tourism Bureau having invited world-renowned designer Sabra Andre, knitting queen Gioia Pan and designers who participated in the Berlin Fashion Week and New York Fashion Week, to design 19 exclusive sets of stylish bathrobes based on the characteristics of Taiwan's featured hot spring areas, portraying 19 hot spring stories unique to the relevant places. Celebrity Annie and international supermodel Silvia Wang led Eelin Entertainment's professional models and 19 hot spring areas' chairmen to walk in the hot spring fashion show in the garden of Grand Cosmos Resort Ruisui, surrounded by lush greenery.
During the opening ceremony, Chef Jimmy from Grand Cosmos Resort Ruisui launched the season's limited hot spring cuisines based on the theme, "Taiwan Hot Spring & Fine-Cuisine Carnival". Besides ingredients from Yilan, Hualien and Taitung such as cherry valley duck, bamboo shoots, Zanthoxylum ailanthoides, Chinese onion, Roselle, etc., the banquet also incorporates Taiwan hot spring areas' specialty ingredients, including: Wulai indigenous people's wild boar sausage, Sichong River's salted red-yolk duck eggs, Xinbeitou's free-range chickens and Guanziling's Dongshan coffee. Jimmy said Taiwan's hot spring areas have many other specialty foods, beverages and seasonal agricultural ingredients, such as: Shamao Mountain Hot Spring's wild-grown vegetables, Jinshan Hot Spring's duck, Guguan Hot Spring's trout, Dongpu Hot Spring's plum, Baolai hot spring's yam, etc., each with its own characteristics, waiting for visitors to explore and savour.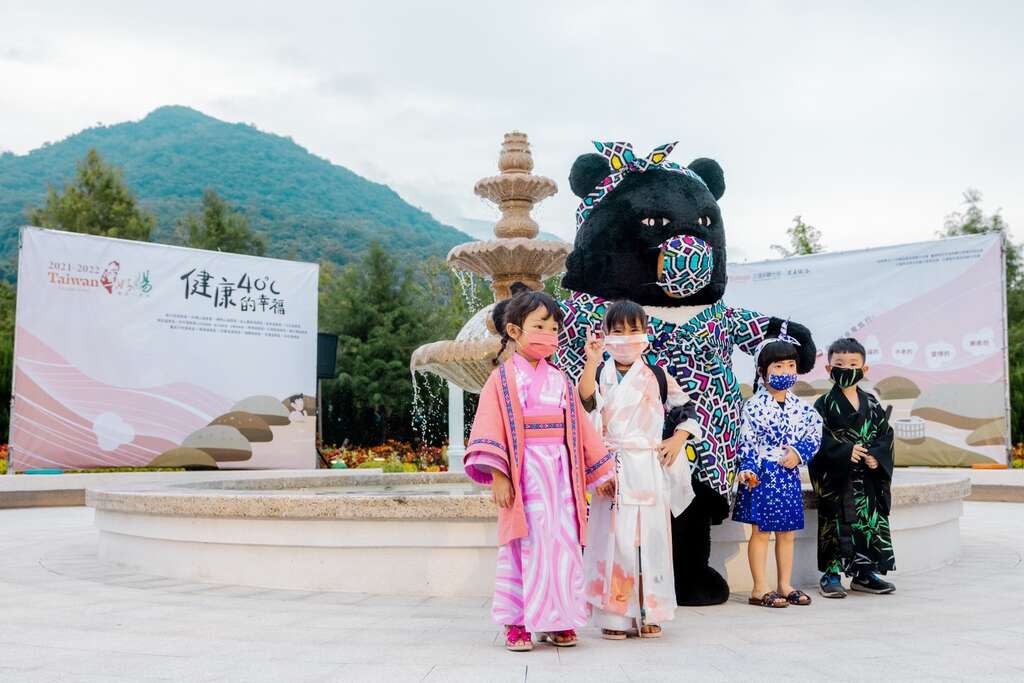 According to the Political Deputy Minister of the Ministry of Transportation and Communications, Yen-Po Chen, the Tourism Bureau began promoting hot spring branding in 2007, with "Taiwan Hot Spring & Fine-Cuisine Carnival" as its publicity theme, both at home and abroad. The marketing of Taiwan's hot spring areas is into its 14th year, and visiting hot springs has become a regular activity for many people. With the joint effort of hot spring associations of Taiwan's hot spring areas, Taiwan's hot springs have made its name in the world. This year marks the first time that the opening ceremony is held in eastern Taiwan, with the aim of enabling visitors to learn more about the beauty of Taiwan hot springs!
Since the outbreak of the new coronavirus, people have felt worn out. The issuance of a quintuple stimulus voucher and domestic travel voucher initiated by the Executive Yuan aims to stimulate domestic consumption and drive economic revitalization. On top of that, Taiwan Hot Spring & Fine-Cuisine Carnival will be holding the Quintuple Stimulus Voucher lucky draw. On the basis of the past events, this year's Taiwan Hot Spring & Fine-Cuisine Carnival will be featuring innovative activities and continue to drive the marketing heat and topic. For example, we realize that the 40oC Taiwan hot spring is perfect as it is not only a healing temperature but also a temperature with a human touch. We also continue to promote Taiwan's 19 hot spring areas with the brand, "PLUS 19", publicizing that the hot spring areas can unleash more charm. Together, we will present the characteristics of each hot spring area, touching the heart of every traveller with the hot spring stories, and bringing happiness to all.
According to the Chief Secretary of the Tourism Bureau, Pei-chun Lin, the Tourism Bureau uses the concept of healthy 40oC in promoting the brand of Taiwan Hot Spring & Fine-Cuisine Carnival, with an aim to enable visitors to get to know Taiwan through "temperature". This year's event highlight, the "ideal temperature to warm your heart," manifests the concept of the most comfortable 40oC hot spring temperature; based on this concept, the promotional campaign, "A Warm Hot Spring Travel", is organized and participated by more than 400 legal hot spring operators. By spending NT200 with the quintuple stimulus voucher or domestic travel voucher on accommodation or hot spring at the Quintuple Stimulus Voucher's partner stores, visitors can register their invoice numbers into the website and stand a chance to win hotel vouchers and 3 iPhone 13, which are sponsored by Taiwan's hot spring areas and valued in total at more than NT2 million. With the hot spring vouchers won, visitors can then enjoy the hot spring and seasonal cuisine with their families all over Taiwan, boosting local consumption.
In addition, the East Rift Valley National Scenic Area Administration will be launching "Formosa Hot Spring Bus", inviting hot spring experts and internet celebrities, together with OhBear, to visit Taiwan hot spring areas to film and have fun. Their videos will be broadcast regularly on the Hot Spring Facebook page in the form of "TV Series", presenting happiness, friendship, love, healing activities and memories of Taiwan's hot springs, as well as exploring and promoting the warm stories of hot springs in various areas, warming the heart, the stomach and people.
"2021-2022 Taiwan Hot Spring & Fine-Cuisine Carnival" promotional activities will start from now until the end of April next year. It is hoped that the event will drive Taiwan's autumn-winter hot spring travel boom, as well as convey the goodness and warmth of Taiwan's hot spring areas to more people, truly soothing the hearts of people through hot springs.