Anchor
Take your own bicycle on a train ride to the East Longitudinal Valley – 2-day tour

Introduction
Would you like to try a different way of travelling? Take Taiwan Railway's bicycle-friendly trains, departing from Hualien and going all the way down the East Longitudinal Valley. You can have iced desserts at Guangfu Sugar Factory, ride your bicycle on Mr. Brown Avenue, enjoy the countryside scenery and the sea of clouds. Let the bicycle-friendly train take you to the East Longitudinal Valley!


Before setting off, find out which ticket you need to buy, then check the timetable for the bicycle-friendly trains, and buy the ticket at the train station where you plan to board the train!

Bicycle-friendly train ticket types
I. Use a bicycle travel bag:
1. Store the bicycle in a travel bag. Do not use a common plastic bag, fabric bag, or any other bags as substitutes.
2. The maximum length shall not exceed 150cm; and the sum of length, width, and height cannot exceed 220cm.
3. You can board all trains, but please be mindful not to take up the space of other passengers.

II. Without a bicycle travel bag
1. Take the bicycle directly onboard without packing or storing it.
2. No. 72, 73, 616, 655, 701, 708 Chu-Kuang Express trains are equipped with passenger-bicycle cars. Passenger seats with a bicycle rack are available. You can check the train schedule online first and book the tickets at the station. Taipei Railway Station does not have bicycle ticket gates so there is no bicycle-friendly trains departing from or terminating at Taipei Railway Station.
※Bicycle-friendly train ticket booking

Bicycle rest and supply stops: 7-11 stores along Provincial Highway 9, Dafu Bicycle Station, Ruibei Bicycle Station, Chishang Bicycle Station.


Day 1
Route: Guangfu Train Station→Guangfu Sugar Factory→Danong Dafu Forest Park→downtown Ruisui (for supplies)→County Road 193→overnight stay at Yuli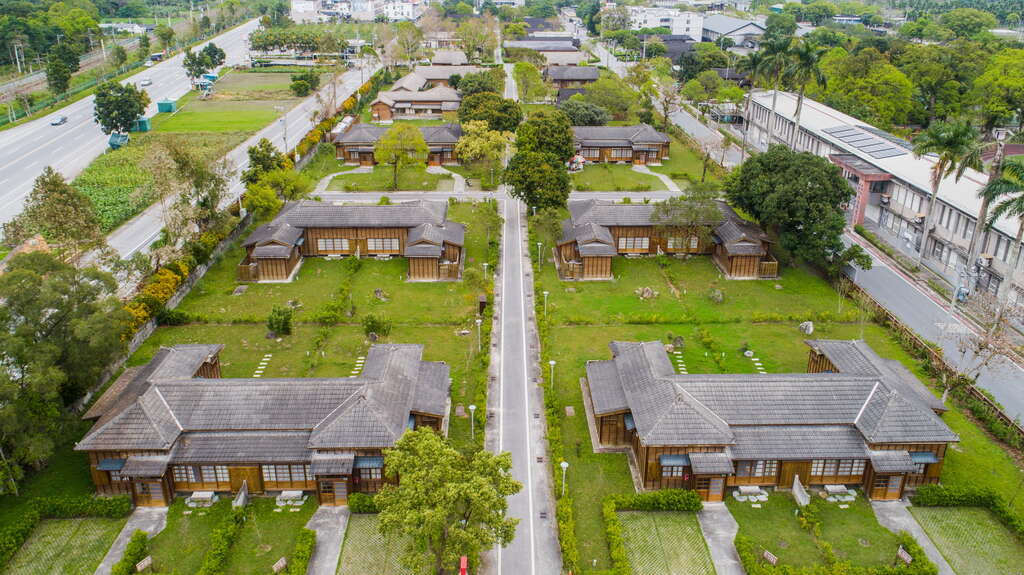 Take a ride from Hualien Railway Station to Guangfu Railway Station. Ride a bicycle to the nearby Guangfu Sugar Factory for an iced dessert, and then go to Danong Dafu Forest Park for a ride on the bicycle trail to enjoy the beauty of flat-land forest. Avoid the steep Wuhe Platform, and instead ride on the beautiful County Road 193 to Yuli to stay overnight, and taste local cuisine such as Yuli noodles and stinky tofu. It will be a relaxing journey with the bicycle-friendly train.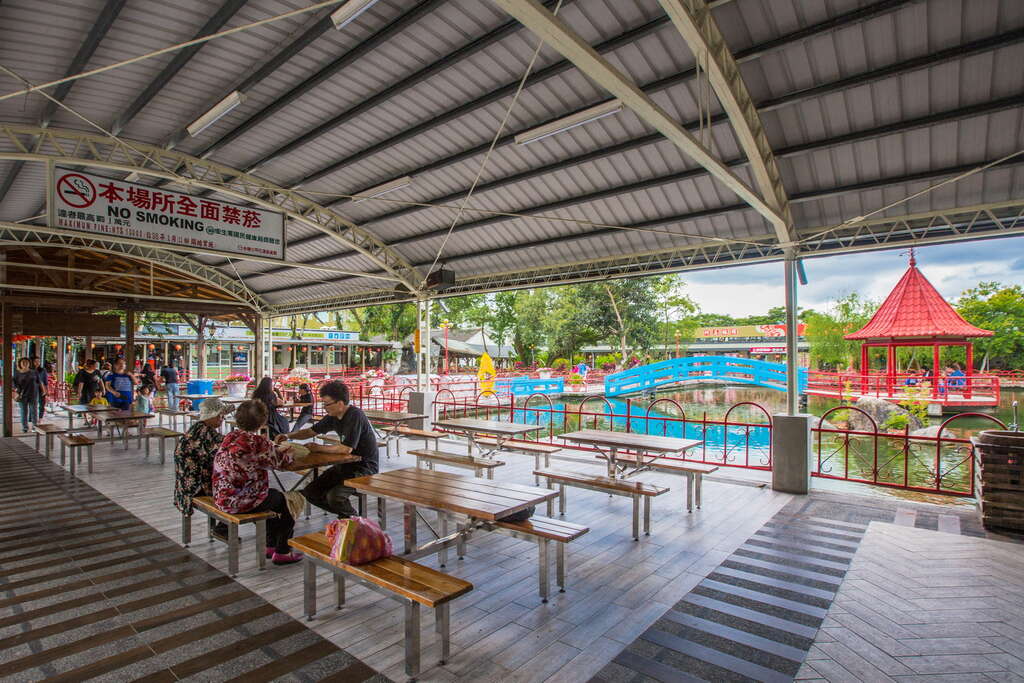 ■ Guangfu Sugar Factory
Guangfu Sugar Factory was established in 1921. Currently, Japanese-style dormitories are preserved here. It has become a rest stop for cyclists. It is also a tourist factory not to be missed in Hualien, selling various flavors of iced desserts, including sweet and creamy ice-cream, and refreshing and slightly sweet popsicles, sure to satisfy your appetite. In addition to eating iced desserts, there are delicious meals such as kiln-baked pizza and wonton soup. You can have a good meal and recharge here, before getting back on the road again!

Guangfu Sugar Factory
Business Hours: 08:00-20:00
Tel: +886-3-8704125 #200
Address: No. 19, Tangchang Street, Guangfu Township, Hualien County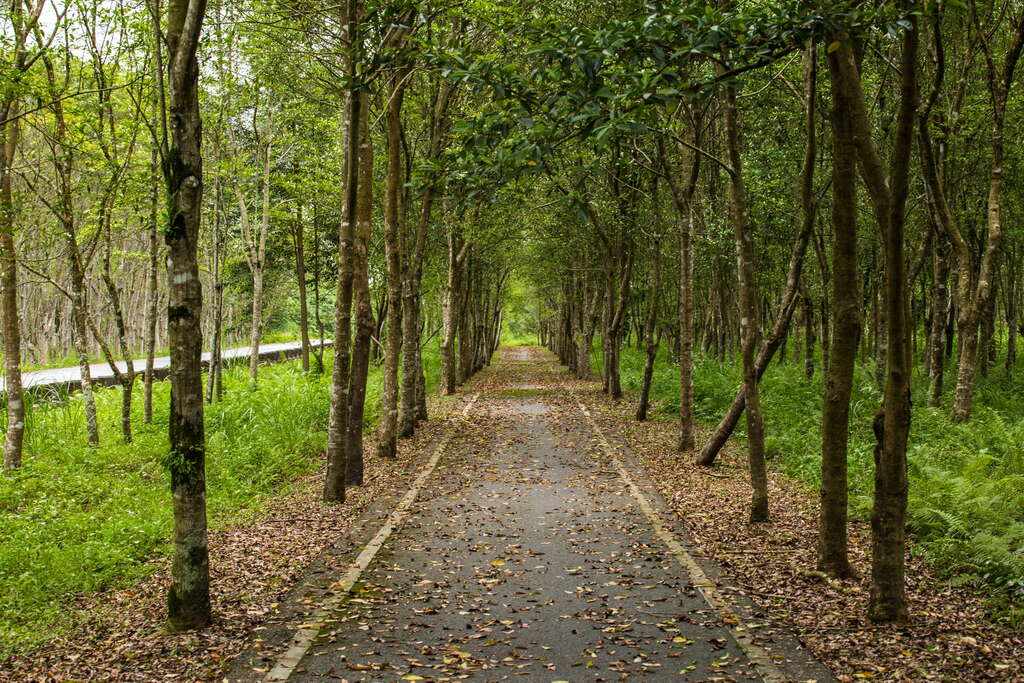 ■ Danong Dafu Forest Park
Danong Dafu Forest Park covers an area of 1,250 hectares and has rich nature and ecology. There are the north and south circular bicycle paths in the park, allowing people to fully take in the phytoncide while riding a bicycle. If you are lucky, you will see ring-necked pheasants coming out for food. Listening to the insects and birds, ride a bicycle at a relaxed pace, and enjoy the nature therapy.

If you come to Danong Dafu for a bicycle ride in autumn and winter, the colorful south bicycle path is a must-see maple spot. Listen to the rustle of maple leaves and admire the gorgeous maple forest. You can fully experience the romantic atmosphere of autumn and winter.

Danong Dafu Forest Park
Business hours: 08:00-17:00, closed on Mondays (except winter and summer vacations and national holidays)
Tel: +886-3-8700870 #9
Address: No. 31, Nongchang Road, Guangfu Township, Hualien County
Best seasons: maple season is from December to January next year; firefly season is from late March to mid-April.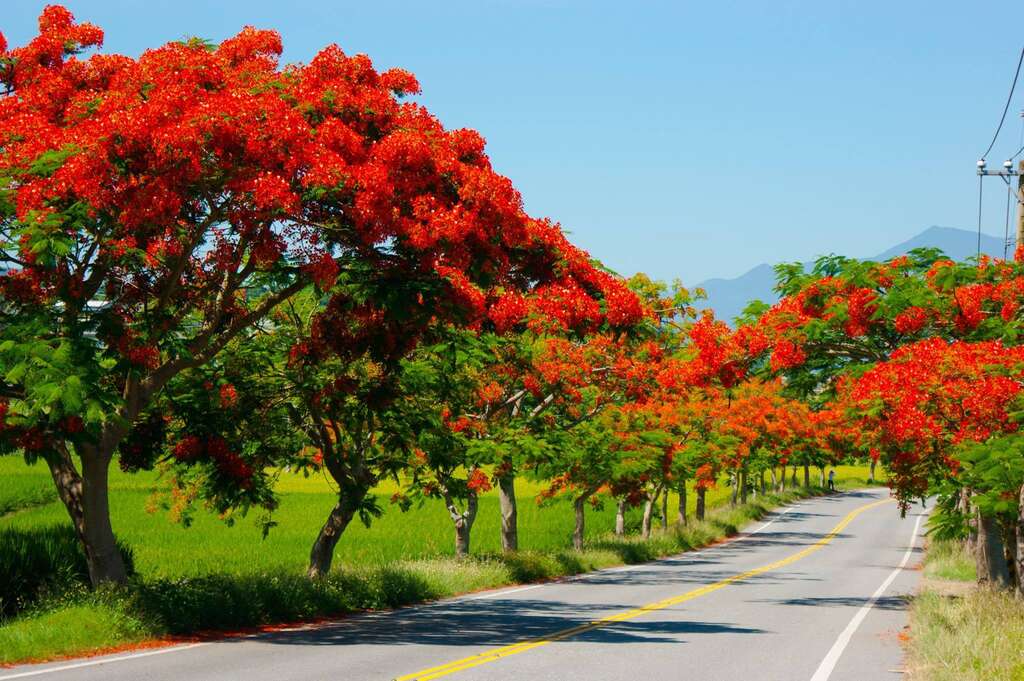 ■ County Road 193
County Road 193 is the longest county road in Taiwan, starting from Nansanzhan, Xincheng Township in the north to Lehe, Yuli Township. The total length is 110.92 kilometers and it is a popular cycling route. Riding on County Road 193, you are accompanied by the scenery of blue sky, white clouds, lush mountains, and clear waters along the way. As the season changes, you can also enjoy the red poinciana flowers, the golden shower trees, and the endless waves of rice. You can even watch the sea of clouds rushing down from the mountains and feel absolutely satisfied. The unique scenery on the road in the East Longitudinal Valley is highly enjoyable.

County Road 193
Best seasons: Waves of rice in Ceroh, Chunri in May-June and October-December; red poinciana flowers and the golden shower trees in Dongfeng to Lehe from June to July.


Day 2
Route: Yuli→Dongli Railway Station→downtown Chishang (rest)→Mr. Brown Avenue→Dapo Pond→Chishang Railway Station→Return home

The most relaxed trip in the East Longitudinal Valley is going around the rice fields on bicycles. Starting from Yuli, the mountainous landscape and the countryside scenery along the way can all be taken in with your eyes. Try the famous Chishang lunchbox and recharge yourself with delicious food.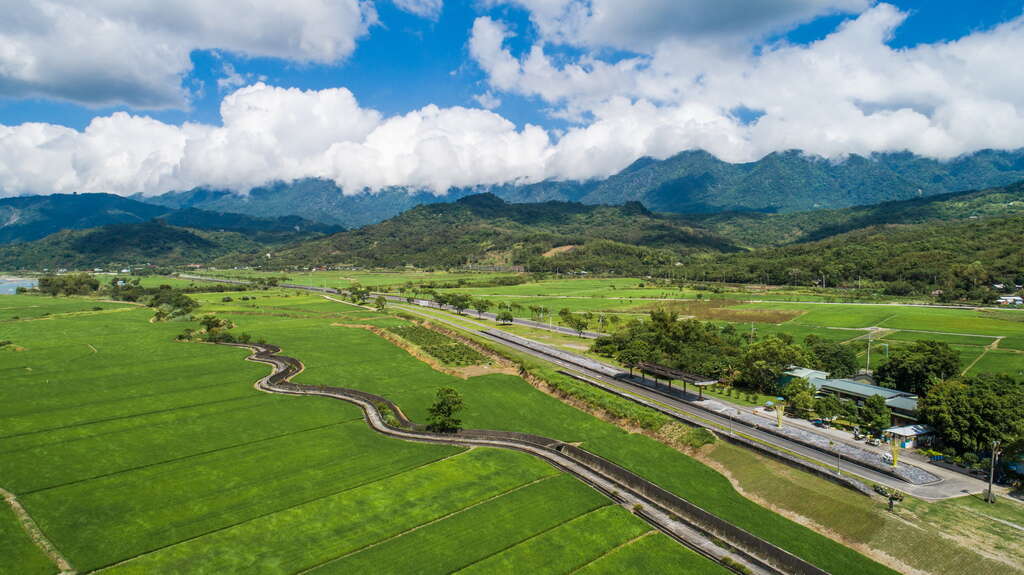 ■ Dongli Station
On average, about 20 people enter and exit Dongli Station every day. It might seem insignificant, but it is known as "the most beautiful railway station on the Mountain line." As soon as you walk onto the platform, you will be amazed by the beautiful scenery in front of you. Boundless green fields stretch in front of your eyes, with the tiny Dongli Station in the middle, surrounded by fields.

When the sun rises and the sunlight casts on the rice fields, people cannot help but immerse themselves in it. As the season changes, the rice fields turn from green to golden, and the golden rice waves sway in the wind. Feel the tranquility at Dongli Station and the beauty of the rice fields.

Dongli Station
Address: Dongli Station, Fuli Township, Hualien County
Kind reminder: If you are tired after cycling, you could take the train from Dongli Station to Chishang!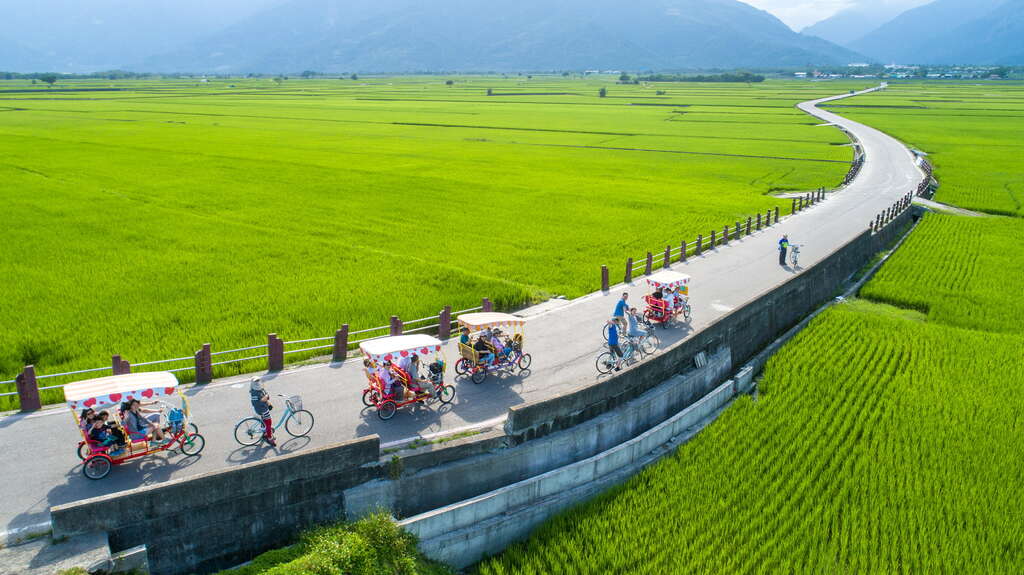 ■ Mr. Brown Avenue
A small road in the fields in Chishang Township, Taitung County is lined with rice waves swaying in the wind. It became popular for being the shooting location for a Mr. Brown Coffee TV commercial. It is also known as the "green road to paradise."

The vast, verdant rice fields turning golden, combined with the undulating mountains in the distance, are just like a beautiful postcard. Cycling or walking in the endless rice fields, you can get away from the hustle and bustle of the city and immerse yourself in the beautiful scenery.

Mr. Brown Avenue
Tel: +886-89-862041
Address: Mr. Brown Avenue, Chishang Township, Taitung County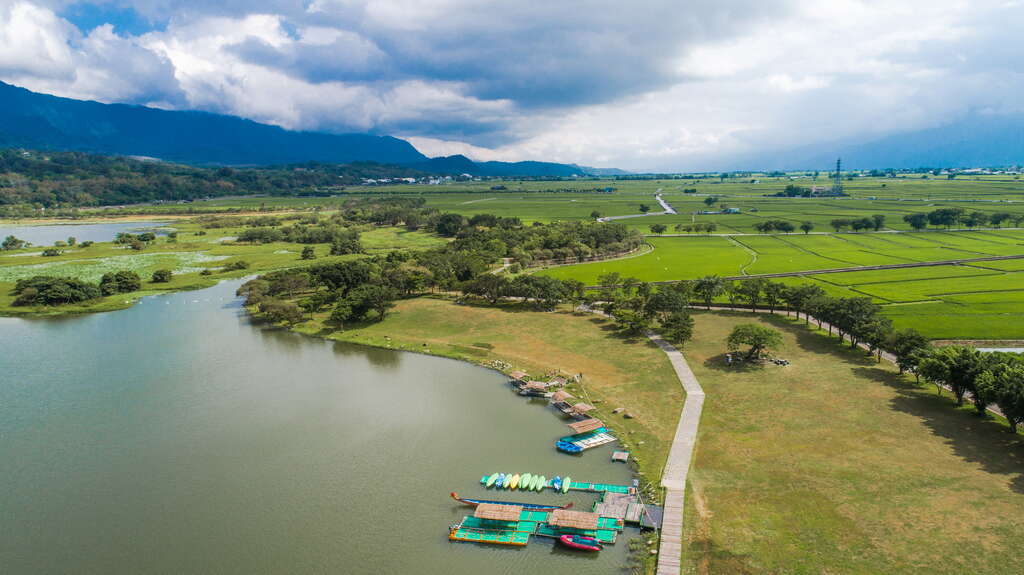 ■ Dapo Pond
Formerly known as "Dapi," Dapo Pond is an inland freshwater swamp. "Fishing in Chishang" refers to here and is listed as one of the ten scenic spots in Taitung.

With a great location, there are abundant ecological resources such as animals and plants here. There are also a circular walking trail and a bicycle paths. Dapo Pond has beautiful scenery and is suitable for relaxation and leisure. It is a great place to go in Taitung for bicycle riding and spacing out.

Dapo Pond
Tel: +886-89-862041
Address: At the foot of Dapo Mountain, Chishang Township, Taitung County
Best seasons: Lotus season is June to July.
Notes
Day 1
Route: Guangfu Train Station → Guangfu Sugar Factory → Danong Dafu Forest Park → downtown Ruisui (for supplies) → County Road 193 → overnight stay at Yuli
Day 2
Route: Yuli → Dongli Railway Station → downtown Chishang (rest) → Mr. Brown Avenue → Dapo Pond → Chishang Railway Station→ Return home